ABOUT TIBETAN TEA
 Welcome to Tibetan Tea.   We are a 100% natural beverage company located in the Bellevue, Washington area. We produce the world's greatest sparkling tea! Tibetan Tea is high in black tea and other invigorating herbs. 
100% Natural Sparkling Tea
    Legend has it, high in the distant reaches of the Tibetan mountains, the seasoned caravanners brewed their teas with fresh Himalayan snow and exotic herbs. To help endure the harsh climate, they boosted their tea with ginseng, ginger roots and laced it with honey. This produced a great tasting drink that rejuvenated inner strength and increased stamina.
    Through the meticulous blending of these unique ingredients, Tibetan Tea offers you a refreshing beverage with invigorating qualities and the mystique of this legendary blend. Tibetan Tea is a crisp, refreshing and robust sparkling tea.  Tibetan Tea has no preservatives, no high fructose corn syrup, no artificial flavors or colors.
100% Made in the USA
 Black Tea - Generous, visible amounts of black tea.  This is where most of the energy comes from.  Cane Sugar (Sucrose)  – Sucrose is real sugar, from cane or beet & we use cane sugar. Ginseng- It consolidates, generates & promotes the harmonious  flow of inner energy. Ginger - This exotic spice is known to soothe and aid digestion. It stimulates circulation and promotes a healthy cardiovascular system. Guarana - The Guarana berry contains a natural form of caffeine. It helps cleanse the body of accumulated lactic acid and boosts energy levels. Caffeine - Naturally present, between 200-250 mg per can. About 25% more than coffee. Natural Flavors - It's real honey – nothing else!
Tibetan Tea does not contain pharmaceutical (synthetic) caffeine, amino acids or  carbohydrates. (i.e. Taurine, L-Carnitine or Glucuronolactone). We strongly disagree with ingesting synthetic formats of these basic ingredients, especially in such large doses: 1,000 to 2,000 times the body's needs.  These are most likely highly toxic to the liver & stomach. See more detailed information under HEALTH on our website.
_____________________________________________________________________________________
HISTORIC DECISION |May 2012
Tibetan Nuns Granted the Opportunity for Geshema Degree
After years of deliberation, Tibetan Buddhist nuns are finally set to receive Geshema degrees, or the equivalent of a PhD in Buddhist Philosophy.  The Central Tibetan Administration reached this unanimous and historic decision on May 19th 2012 after a two-day meeting in Dharamsala attended by high lamas, representatives of nuns from six different nunneries, and members from the Tibetan Nuns Project.
 Previously, Geshe degrees were open only to Tibetan monks.  Now nuns will be allowed to appear for the doctorate exams as well as be fully ordained and acknowledged for their monastic and academic abilities; they will be able to teach Buddhist philosophy in nunneries and schools.  To graduate with a Geshe degree, one studies the five essential Buddhist texts—all based on the teachings of the Buddha—over a period of about twenty years.  Method of study involves logical analysis and debate, combined with regular sessions of prayer and recitation.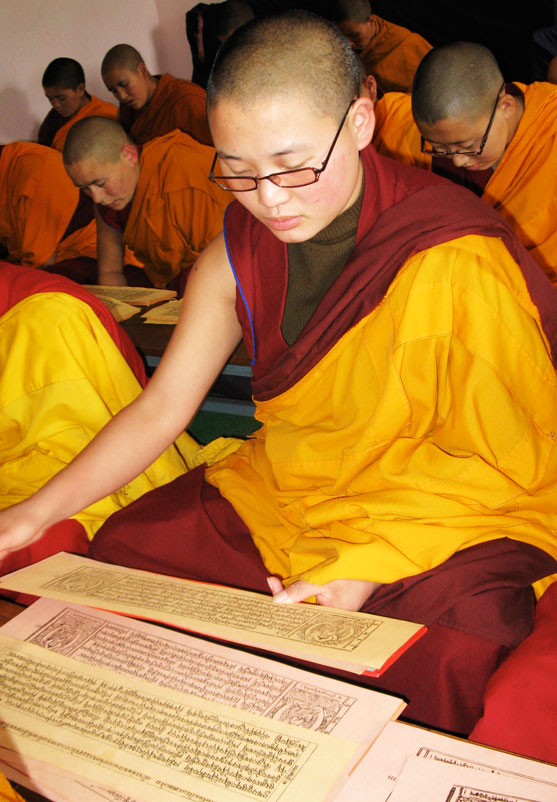 Because the Geshe degree is granted usually on the basis of proficiency in dialectical ritualized debate, the Tibetan Nuns Project has always encouraged the practice and cultivation of debate: first, by initially setting up a system of literacy and education for the nuns, and later by sponsoring the month-long inter-nunnery debate competition—Jang Gonchoe. According to TNP Co-Director Elizabeth Napper, "debate is the way the nuns come to know what they study; it builds their confidence as well as their competency."    
Save the Date for Pit Bulls on Parade 2013
Saturday, August 24th, 2013 10 am to 3 pm
Riverdog Canine Coaching, Issaquah, WA
TIBETAN TEA IS NOW IN FLORIDA!!!
Very Exciting!
You can now purchase Tibetan Tea all over the state of FLORIDA.  (These pics are from Natures' Food Patch & Ada's Whole Foods)
_____________________________________________________________________________________
"Today, more than ever before, life must be characterized by a sense of universal responsibility, not only nation to nation and human to human, but also human to other forms of life."  Dalai Lama